Talking to: Thierry Mousel – Marketing Manager/Global Regulatory Strategist
Let's Talk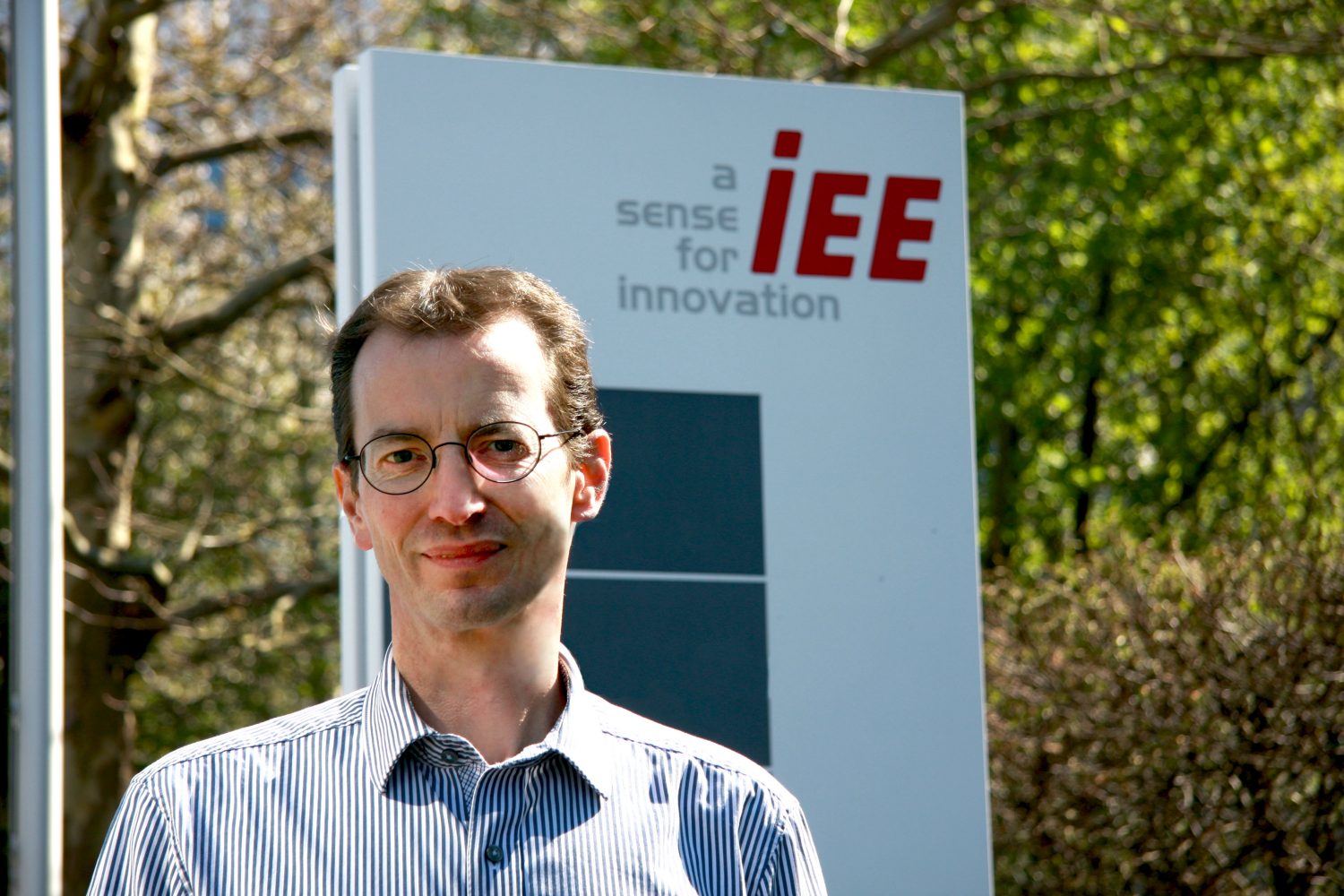 "At IEE, we do not shy away from business opportunities that may initially look niche, and we recognize their potential for growth. We always strive to give a tangible meaning to our company slogan "A sense for innovation" that translates into viable solutions for the industry."
Thierry, you have been working for IEE for over 20 years now. What is IEE and what is your role within the company?
IEE is specialised in sensing solutions for various markets. Automotive is our biggest market, but we also provide sensors for building management or medical & healthcare applications, based on various sensing technologies.
My core task is to monitor and analyse worldwide evolutions related to vehicle regulations or vehicle safety assessments (e.g. NCAP vehicle safety ratings). I represent IEE in the corresponding technical working groups, and share my findings with our Business Lines, Business Accelerators and the sales team. My work helps IEE to better understand the future customer needs and to develop the appropriate sensing solutions that will be required in the coming years. In addition to those regulatory tasks, I manage our Marketing & Communications team.
What do you see as the biggest challenge in your work?
I develop strategies to make our interests heard, and a constant challenge is that one has to accept these are often mid- to long-term activities. A quick success is rather the exception than the rule, especially when it comes to novel vehicle safety functions. It can easily take 15-20 years from the introduction of a new technology until it finds its way into the mass market. So, often, it takes some perseverance to achieve one's goals!
What are you particularly proud of?
My work contributes to saving lives, and that's something I think I can be proud of. Two examples: Seat belt reminders are known to reduce crash fatalities and injuries, as they increase the seat belt wearing rates. I have been a key industry representative in the United Nations working group that created a regulation for seat belt reminder systems. Such systems will become mandatory on the front seats of new vehicle types from September 2019 onwards in the EU, Japan, South Korea and other countries.
Another topic that I've been dealing with since quite a while is children dying of in-vehicle heatstroke. I've been monitoring and analysing this issue for more than 10 years. IEE has finally found a solution to detect even sleeping infants who are left unattended in a vehicle. So, I now strongly hope that VitaSense – our dedicated product – will considerably help save children's lives.
What do you most like about your job?
The fact that I am continuously involved in new topics. When I started to work for IEE, the key vehicle safety topic was passive safety (reduction of fatalities). Then active safety (prevention or mitigation of crashes) gained in importance. Today, the topics of assisted and automated driving are strongly in the regulatory focus. And the various worldwide NCAP's also tend to evolve at an increasing pace. No year is ever the same, and in each of these areas there are and have been opportunities for IEE. On top, attending international working groups allows me to meet people from all around the world, which is a very valuable personal experience.
IEE pioneered the development of occupant presence detection sensors more than 25 years ago. Since then, we have developed various vehicle interior sensing solutions based on different technologies. We have a history of being "first to market" with innovative solutions: Child Seat Presence and Orientation Detection (CPOD), capacitive occupant classification (BodySense), capacitive "hands-off" detection (HOD). And with VitaSense, we now have another promising technology in the pipeline.
In the non-automotive markets, we also realised major innovations: our 3D MLI sensor for building management had been honoured for its benchmark performance. At IEE, we do not shy away from business opportunities that may initially look niche, and we recognize their potential for growth. We always strive to give a tangible meaning to our company slogan "a sense for innovation" that translates into viable solutions for the industry.