Erasmus students visit IEE Headquarters
Let's Talk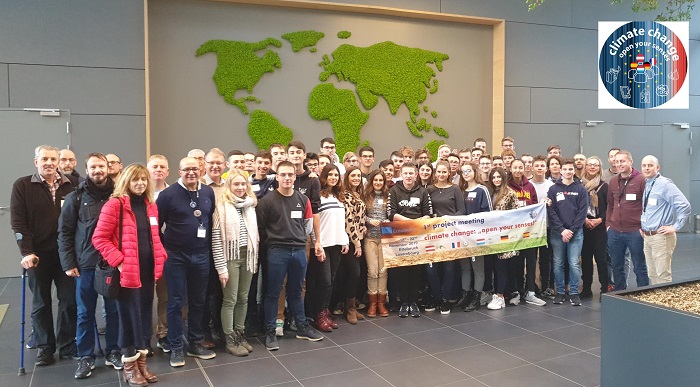 This November, we had the honor and the pleasure to host a large group of enthusiast Erasmus students coming from Luxembourg, France, Germany, Spain and Austria to learn more about our sensing solutions and our company.
The group gathered in Luxembourg at LTEtt (Lycée Technique d'Ettelbruck) for the kick-off session of a new Erasmus+ project promoting European mobility, cooperation and cross-cultural education: Open Your Senses. This year, the theme is climate change and how to prevent it. One of the goals of the project is therefore to design a measurement box able to record environmental parameters like temperature, CO2, fine dust, etc. The box will be used in different countries for educational purposes and to raise awareness about climate change to a broad audience. The teachers decided that a company involved in designing high tech sensors such as IEE would make the perfect fit for this project and well worth a visit.
"We would like to stimulate these young people aged 16-21 towards new technologies and what can be achieved with them. Not all of them have a technical background, but what matters is to bring ideas together in an international environment and try to find solutions for a common goal. We thought IEE can contribute a lot to opening up their perspective on what sensors can do in practice, how they integrate various products and help inspire them for this project and future ones," says Marc Engel, Electrotechnics teacher at LTEtt. "After all, to measure is to know," he concludes.
It was a great experience as there was a lot of curiosity and interaction during the presentations and demos given by our staff. The young people were particularly fascinated with the sensing solutions used for digital shoes, the HOD steering wheel in the context of future assisted/automated driving and learned that they are also used in systems such as VitaSense that help save children's lives.
After their stormy arrival in the IEE premises, their departure left us with the comforting feelings that we made them discover new, exciting things and that they will remember us for a while. Perhaps they will even think of our SBR sensor when travelling by car, knowing that our IEE-designed and produced sensor mat might be found underneath the car seat.
We, at IEE, were very grateful for their visit and would like to wish every single one of them the best of luck for the future. We have no doubt they will have a role to play in it.